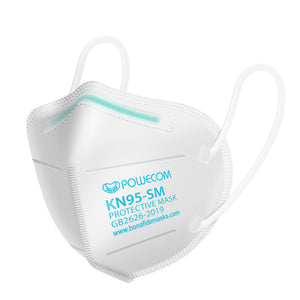 Kids Powecom KN95 Masks [Pack of 10] – White  
Made to New GB2626-2019 Standard
Quantity: 1 Bag (10 KN95 Respirators per bag)
Sizes: 15% Smaller than standard KN95
Ages: Kids 4+
Product Features: Free forming Nose Piece, Latex Free Ear Loops, Multi-Layer Filtration System
Discounted pricing for higher quantities available.
The Powecom KN95 personal respirator, which ships from stock directly from our Bay Area, California warehouse, is a respirator face mask made of a multi-layer filtration system of non-woven breathable fibers and is utilized globally. The Powecom KN95 is manufactured by Guangzhou Powecom Labor Insurance Supplies Co., LTD. 
The Powecom KN95, made to the new standard, will be the same size, shape and use the same production process. The improvement will be from the new melt-blown polypropylene cotton filter layer which will upgrade the breathability factor (respiratory resistance) of the mask. This new enhancement will help make it easier to breathe for the user while still offering filter efficiency greater than 95%.
MATERIAL:
46% non-woven polypropylene, 28% melt-blown fabric, 26% ES hot air cotton.
Earloops: Latex-free
Nose piece: Free form metal
Additional Detail
Frequently Asked Questions
What is the material used for making Powecom KN95 masks for kids?
The mask is made of 28% melt-blown fabric, 46% non-woven polypropylene, and 26% ES hot air cotton. The earloops are designed to be completely latex-free. And, the nose piece is free from metal.


How do I make my kids wear a fabric mask?
It's important for your kids to wear a fabric mask properly. Make sure your kids follow the procedure mentioned below:



Before they wear masks, they must clean their hands with alcohol-based soap water.
Make sure you check for damages before wearing the fabric mask.
Adjust the mask so that it covers the kids' mouth, nose, and chin, leaving no gaps on the sides.
Make sure the straps are behind the ears or head. Never cross the straps because this can cause gaps on the side of your face.
Change the mask once it gets dirty.

 

 What should I look for when buying Powecom KN95 face masks?
Buying a face mask can be pretty difficult as it's hard to spot a counterfeit mask just by looking at it. Shopping for them is undeniably a multi-step process to confirm you're getting the real thing.



Here are a few things you need to consider when buying the Powecom KN95 face masks: 

Fit - As you know, there is a lot of size and shape variability in children's faces. So, if you buy a mask too big, the mask will have gaps at the cheeks or chin. It defeats the entire purpose of protection.

Quality of brand and manufacturer - The manufacturer you are buying from and the brand the mask features is crucial for making sure that you're buying the right thing. With Planet Halo, you can rest assured that you'll get the best of everything.
Performance and Design
Always review the testing documentation provided by the brand or manufacturer to confirm that the mask offers at least 95% protection from particulate matter.



Can't  I use a cloth or surgical face mask instead of a KN95?
The KN95 masks must be worn in areas where universal masking is required. They are known to reduce the spread of the virus. Recent research studies have shown that wearing a KN95 mask in indoor public settings reduced the odds of acquiring COVID-19 by 83%.

It was also found that surgical and cloth masks also reduce the chances of getting COVID-19 but at a lower level of around 60%.


Will a KN95 protect me from COVID-19?
Yes, of course. If you are exposed to the virus while wearing a KN95, you are less likely to acquire COVID-19. Moreover, you'll have to face less-restrictive self-isolation or other quarantine requirements than the ones wearing cloth masks.


How should I care for my B2626-2019 KN95 masks?
Your mask will be reusable for an extended period of time if you take proper care.



We suggest you never attempt to wash your KN95 mask. If you wish to keep your KN95 clean between uses, all you need to do is store your mask in a safe location that other people can't access.

Your mask should not get wet or be exposed to direct sunlight or excessive heat. There is nothing better than a dry paper bag for storing your mask.





 How do I know it's time to discard my KN95 face mask?

You should replace your Powecom KN95 face masks when one of the following things happen:

Becomes wet or dirty
No longer covers your nose or mouth
Has damaged ties or straps or has been stretched out.
Can no longer stay on your face.
Has tears or holes in the fabric
How do I determine the size of my mask?
We have specified the size in accordance with the age group you're shopping from.

KID SIZE: - Preschool: Age 3-6 years old
SMALL: Age 6-9 years old
YOUTH: Age 9-13+ years old
 Sizing Chart
KID SIZE: - Preschool: Age 3-6 years old
A&P KF94 Kids (All Colors) - Link
Good Day – Happy Life KF94 Kids - White Adjustable - Link
Powecom KN95 White Kids - Link
SMALL: Age 6-9 years old
Product Lab (All Colors) - Link
YOUTH: Age 9-13+ years old
Good Day – Happy Life KF94 Kids - White - Link


 

 

Liquid error (templates/product line 67): Argument error in tag 'include' - Illegal template name